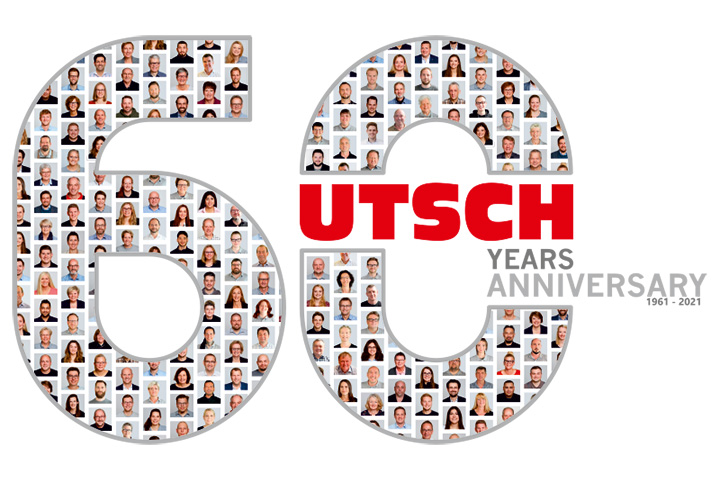 UTSCH celebrates its 60th company anniversary.
Siegen. In the midst of the slowly receding Corona crisis, under positive economic indicators, the Erich Utsch Public Limited Company celebrates it 60th company anniversary. With all the optimism a touch of bitterness remains, however, that the big celebration for this wonderful occasion must, for the time being, be cancelled.
It is the year 1961: West Germany is booming, individual transport is steadily increasing and with it the demand for registration plates. Erich Utsch from Eiserfeld see a market opportunity and together with his wife Emmi starts a business. A small workshop, a wine press converted into an embossing press for registration plates - the rest is history. 60 years later, from these humble beginnings, a global player has emerged which is one of the global, leading companies in its industry.
The reason why this is so has a lot to do with traditional middle-class virtues and solid German engineering skill. But: "In order to retain this contested, leading position one must constantly continue to develop" - Dominic Höffgen, management of Erich Utsch AG, describes the great challenge of the future. This is why over the past five years a deep process of transformation was conducted in order to prepare UTSCH for new challenges. With success: "The company is better positioned today than it has ever been."
In particular, with regards to digitisation great advancements have been made: A considerable portion of the company know-how today consists of individual IT services and software solutions with which one can expand the analogue registration number technology with a digital component. "The traditional registration plate will remain with us for some time to come, but it will become more and more embedded in a digital infrastructure in order to make accelerate processes, as well as make them more transparent and secure. This is where we are leaders in the industry."
This positive anniversary result is somewhat overshadowed by the current Corona situation which does not allow for any festivities. "We cannot, for obvious reasons, celebrate our 2021 anniversary to the degree that we would like", said Höffgen. However, we will thank our customers, partners and above all, the staff for our shared journey over the past years and decades: "We know that we can only be as good as the people who support us." On the occasion of our anniversary a new film will be presented which impressively presents the people behind UTSCH as well as their energy and innovation."
Naturally, the prospect of a time after Corona and the return to normality remains: "Of course we hope that our traditional Christmas celebration can take place at the end of the year - then we will make up for the things which were not possible this summer."