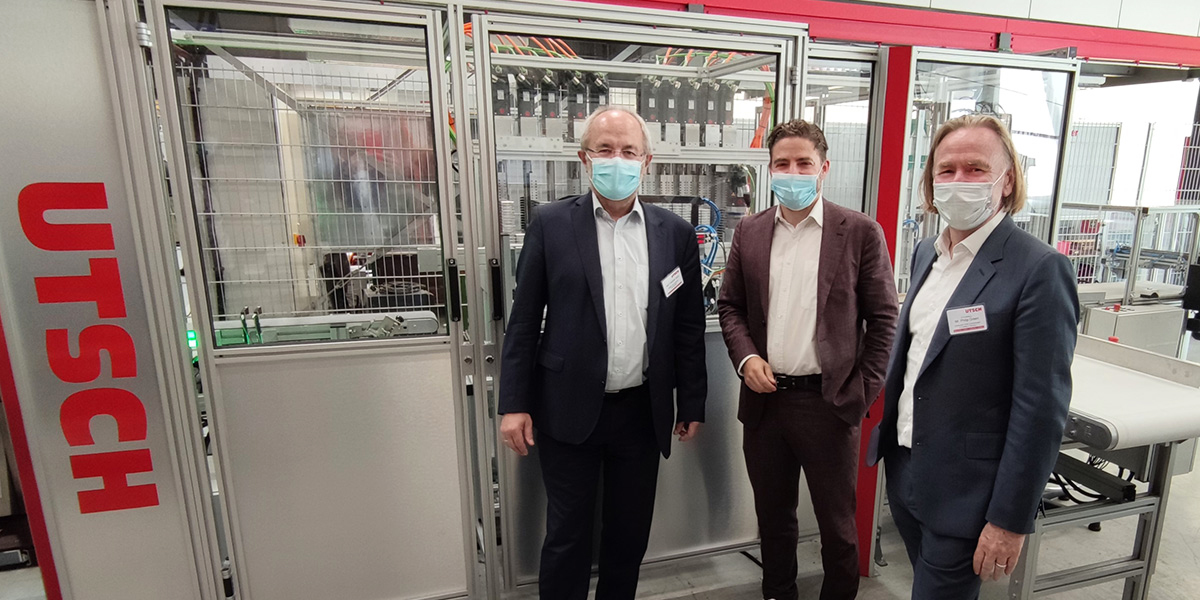 Siegen/Berlin. As part of a tour of Germany, the Australian Ambassador to Germany, Mr. Philip Green, visited Erich Utsch AG together with the local Member of Parliament Volkmar Klein (CDU).
What seems a little surprising at first glance makes perfect sense on closer inspection, because: "Since 2016, UTSCH has been part of an Australian-Swedish group of companies, represented by Ian George (Australia) and Anders Eriksson (Sweden)," explained board member Dominic Höffgen to the assembled guests. In addition, UTSCH also has a strong foothold in Australia in the form of an Australian subsidiary. "In fact, one of the world's leading companies in the field of license plates and license plate technology is therefore also an Australian one," said Höffgen.
Ambassador Green was pleased to be informed in detail about the current state of security technology for license plates and their production during a tour of the company. Here, the guest was particularly surprised by the ever-increasing degree of digitalisation in the environment of a supposedly simple everyday object.

"A considerable part of customer requirements today consists of individual IT services and software solutions with which you can add a digital component to analogue number plate technology," explained Höffgen. "The traditional license plate will remain with us for a long time, but it will be increasingly embedded in a digital infrastructure to speed up processes and make them even more transparent and secure. This is where we lead the industry."

A strong market position fed by technological leadership and international interdependencies - this makes UTSCH a perfect fit for the image of the South Westphalian economy: "Erich Utsch AG is an important part of our economic region and has always been clearly committed to Siegen as a location. At the same time, the company operates worldwide and is an example of the enormous importance of international contacts and cooperation. The exchange with Ambassador Green therefore offered considerable added value for all sides," said Volkmar Klein.

Picture from left to right: Volkmar Klein, Dominic Höffgen, Philip Green