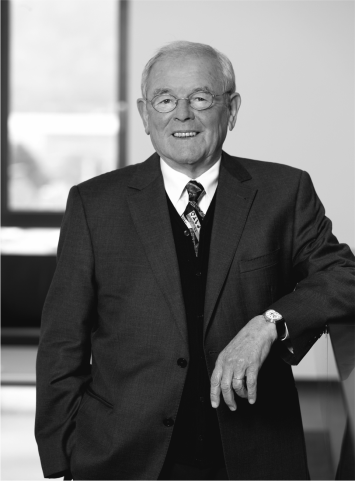 Siegen. At the age of 85, the long-time company director and owner of Erich Utsch AG, Mr Manfred Utsch, passed away on 1 June 2021 after a short, serious illness.
"With Manfred Utsch, we are losing an outstanding personality who literally shaped his company, his industry and his home region: As an entrepreneur and not least as a promoter of local football and youth" said Dominic Höffgen, CEO of Erich Utsch AG. "With perseverance, vision and a lot of skill, he turned a small family business into a globally operating industry and technology leader that today employs more than 1,000 people worldwide." 
The path to this point was by no means preordained. Erich Utsch founded the company in 1961 because he saw a business opportunity in the increasing motorisation of the post-war period in the number plate market. The beginnings were modest, the first embossing press was a converted wine press. But things quickly got better, and from 1963 onwards the company also entered the mechanical engineering sector. Son Manfred, until then a shoe salesman, became more and more involved in his parents' business from 1965 onwards.  
After his father's death in 1969, his son Manfred took over the management of the company and gradually opened up one foreign market after another. This laid the foundation for the rapid growth of the company in the following decades.   
In 2001, Erich Utsch KG became Erich Utsch AG, of which Manfred Utsch became the main shareholder. After initially accompanying and shaping the transition as CEO, he moved to the supervisory board in 2003, which he led as chairman for many years. In 2016, he then decided to sell his majority shareholding. 
He himself emphasised at the time that it was crucial for him to place the company "in good hands" and to ensure the continued existence of the Siegen site and the jobs there. The fact that his company ultimately went to the current owners Ian George and Anders Eriksson visibly filled him with pride and joy on the occasion of his last public appearance before the staff of Erich Utsch AG in August 2016. 
For the works council of Erich Utsch AG, its chairman, Thorsten Görg, describes the sustainability of this last entrepreneurial decision as follows: "For all of us, it was of course a great stroke of luck that Manfred Utsch once again strategically set the course for the future at this point. The company is his legacy and we will continue it in his spirit and memory. We all owe him a debt of gratitude for a life's work that has now provided so many people with a secure job and thus a secure future for 60 years. We will all remember him fondly". According to Dominic Höffgen, this also applies to the second life's work that was particularly close to Manfred Utsch's heart, the sports and youth foundation "Anstoß zum Leben", of which Erich Utsch AG will remain a sponsor in the future.