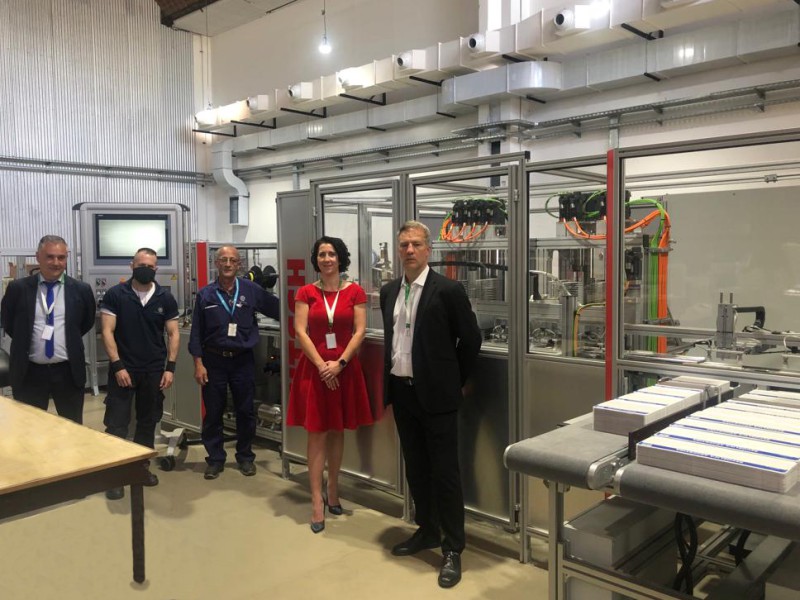 UTSCH delivers the world's most modern automatic embossing press to Argentina.
Siegen/Buenos Aires. The Argentine Mint (Casa de Moneda de Argentina) is a public industrial and commercial enterprise that reports to the Ministry of Finance of the Argentine Republic. Under its president Rodolfo Gabrielli, the Casa de Modena de Argentina is currently undergoing an extensive restructuring and innovation process, also and not least with regard to the production of licence plates, which are manufactured there centrally for the whole of Argentina.
The plan being pursued is ambitious: New plants and machines, combined with the most modern production technologies, are to make Casa de Moneda a pioneer in the region and a model company worldwide. Know-how from Germany is to make this possible: UTSCH helped to build one of the most modern factories in Latin America for the production of number plates.

The bulk of the license plates produced at the Casa de Moneda for Argentina are intended for automobiles and motorbikes - two uses that differ significantly due to very different formats. This usually poses a problem for the automated embossing of plates in large runs, because equipment of this type can only process one or the other format without costly retooling. Nominally. Unless you have an automatic embossing press like the one UTSCH developed for the Casa de Moneda.

"The system developed for Argentina is absolutely unique", says Jennifer Grosser Núñez, project manager at UTSCH, because: "In the rest of the world, two separate systems are operated for the personalisation of such different sign formats". The automatic embossing press at Casa de Moneda de Argentina, on the other hand, can switch from one format to the other without any set-up times and virtually during ongoing production, without delaying production. "The system can personalise 600 to 700 licence plates per hour - regardless of the type or whether the legend to be embossed is continuous or "chaotic". In any case, a consistent, reliable output line is achieved," says Grosser.

The new plant, which has now been commissioned at the Don Torcuato industrial complex, will increase the factory's annual production capacity by more than two million licence plates, according to production manager Diego Oller.

With this innovative technology, Grosser believes that Argentina is now playing in the "Premier League" when it comes to the automatic personalisation of licence plates in large runs: "This plant is groundbreaking for all of South America and far beyond - with the new plant, Casa de Moneda de Argentina is one of the absolute technology leaders in the operation of automatic embossing presses worldwide".