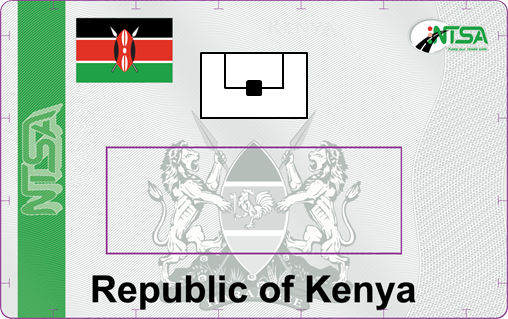 Siegen. More and more countries worldwide are discovering the advantages of a third license plate with RFID technology, for example in the fight against insurance and tax fraud, but also as prevention against criminal and terrorist activities.
The most recent example is Kenya. The Kenyan National Transport & Safety Authority (NTSA) plans to equip all vehicles in the country with an intelligent "Windshield Label" within the next three years. These have been supplied by the technology leader in the industry, Erich Utsch AG in Siegen.
Attached securely behind the windscreen and fitted with an RFID transponder, such a ulabel from UTSCH will serve as a third license plate and thus perfectly complement the classic aluminium license plates on the front and rear of all Kenyan motor vehicles.
Stefan Engelberts, UTSCH's product manager responsible for RFID technology, describes the benefits as follows: "All essential information about the vehicle can be printed directly on a ulabel from UTSCH, but can also be stored in the integrated chip. The information stored in the chip can then be read contactlessly and unambiguously by authorized security personnel using mobile readers, or by permanently installed readers in flowing traffic.
Available information could include the vehicle owner, the current insurance status or taxes paid in addition to the license plate legend. This makes it possible to safely identify vehicles and vehicle owners at any time and to counter fraud or other criminal offences. Whoever tries to remove or exchange the ulabel will destroy and make it useless: "In this case the illegal intention literally becomes obvious".
In view of these facts, Stefan Engelberts believes that it is only logical that Kenya opted for a windshield label and not for the alternative of an aluminium license plate with RFID transponder: "An RFID transponder in the license plate at the front and rear of a vehicle serves only to verify the license plate itself! However, it does not indicate whether this registration plate also belongs to the vehicle, since the plates can be transferred to other vehicles in a non-destructive way and in a few simple steps". Thus, the safety aspect would be absolutely ineffective.
Since the company commissioned with the implementation by the authorities could not comply with the Kenyan specifications for cost reasons, UTSCH was happy to step in at this point: "We have provided our partner company, TÖNNJES C.A.R.D., with a total of 1.1 million of our more cost favourable ulabels to ensure that they can carry out the implementation on site," says Tilman Schwinn, Board Member Sales and Technology at UTSCH. Otherwise, the project could not have been successfully completed this way.
Of course, this help was not completely altruistic; Tilman Schwinn sees Kenya as an important pioneer in the region and beyond: "We are delighted to present Kenya, a significant user of our ulabel technology, as a further reference as of now. This will certainly encourage other countries to join this development."