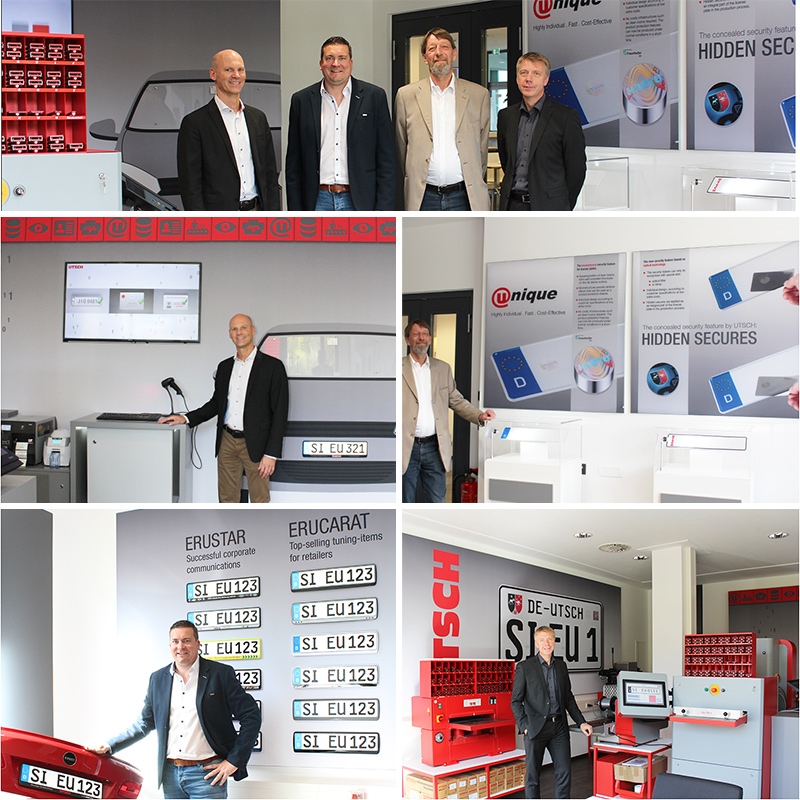 Technical competence to be touched and tried
Siegen. Customers want to see, touch and try products before deciding to buy. What belongs to everyday experience in the private sector also applies to the B2B sector. Especially when it comes to large-scale investments.
Since the former show room no longer met the requirements of modern product presentation, a practical and functional conference room has been converted into a modern and thematically well thought-out showroom in the current UTSCH design within just a few weeks. It was made sure that the present design has an agreeable and contemporary character with a feel-good touch, but the focus is clearly on the technical presentation, and also on "quality you can touch".
The four product managers of Erich Utsch AG [Stefan Engelberts (Systems & Solutions); Maik Boller (License Plate Frames); Peter Lob (License Plate Blanks); Jörg Kölsch (Machines & Plants)] will be able to demonstrate their latest developments and innovations to cus-tomers and interested parties from all over the world in live operation as well as current exhibits on an area of almost 50 sqm.
Due to the spatial proximity to the production facilities, it is now possible to demonstrate the networking possibilities of UTSCH products and technologies on a manageable scale and thus make the UTSCH system concept interactive.
UTSCH license plates with current and innovative security features as well as the wide range of finishing options of the proven UTSCH license plate frames provide additional visual value. And the showroom will also serve as an additional conference and training room, thus it will be optimally used in all possible ways.