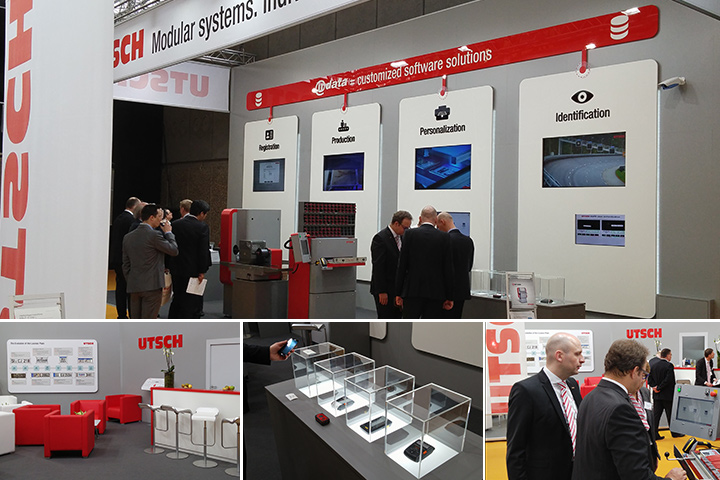 Modular systems. Individual solutions. Efficient, holistic and customised.
From 5 to 8 April 2016, the leading companies of our industry met again at Intertraffic in Amsterdam to present the latest technologies and services related to transport management and safety, infrastructure and mobility.

For the first time, UTSCH presented itself at the Intertraffic simultaneously at two booths: Interested visitors could emerge into UTSCH System World at a special theme booth and experience first hand how UTSCH creates perfect system solutions in any desired dimension from proven and innovative modules and components (plus individual software).

According to UTSCH's trade fair motto "Modular Systems. Individual Solutions", the four system theme worlds "Registration", "Production", " Personalization" and "Identification" as well as the arrangement of related software, hardware and media product presentation were informative and varied visitor magnets.

In addition to new product videos, the network-compatible stamping presses Upress and the new Upress 'light', as well as the particularly energy-efficient hot stamping press ERUT R 120 E were presented live to interested visitors as flagship products of UTSCH mechancial engineering for the manufacture of vehicle registration plates and individual plates.

Special competence in terms of modular and individual software applications was demonstrated based on a simulated registration system for vehicles and vehicle holders as well as the resulting vehicle identification due to modern camera and RFID technology.

At all stages of UTSCH System World, the responsbile engineers and product managers were of course available for questions by the visitors.

Directly opposite the theme world, the UTSCH Lounge invited the visitors to chill out and get away from the general trade fair hustle and there they could experience the other novelties of UTSCH in a relaxed atmosphere.

A well thought out and coherent concept that fully convinced all the parties involved.

Dr. Tilman Schwinn, Member of the Board for sales and technology put it in a nutshell: "Intertraffic was a terriffic success for UTSCH! We managed to present UTSCH as a global player and met the high expectations involved. Customers, market consultants and partners were very impressed, the feedback was consistently very positive."

The consequences are obvious: The UTSCH booth for Intertraffic 2018 has already been fully booked.