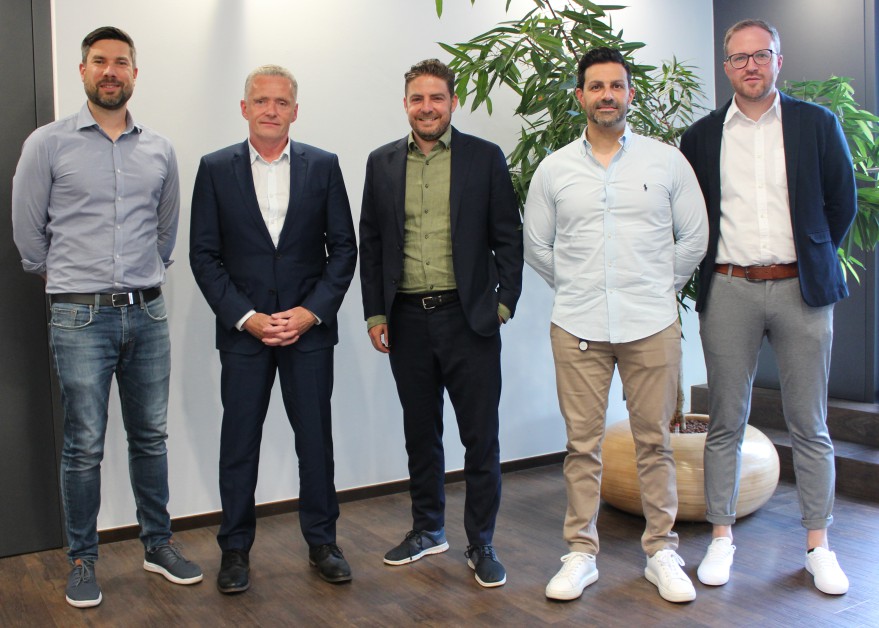 The new UTSCH management team in the picture: Till Rebernik, Richard Taffinder, Dominic Höffgen, Marcos Justo Simón, Florian Osladil
Siegen. With the appointment of Florian Osladil and Richard Taffinder, Erich Utsch AG has completed the reorganisation of its management level. In addition to Marcos Justo Simón (Chief Sales Officer) and Till Rebernik (Chief Financial Officer and Chief Digital Officer), this will be completed with immediate effect by Florian Osladil (Chief Operating Officer) and Richard Taffinder (Chief Technology Officer).

Both are no strangers to the company: Florian Osladil was most recently already responsible for the production of number plates, number plate frames and foils at UTSCH. As COO, he now takes over the management of the entire production at UTSCH, including quality management. Richard Taffinder (as the new CTO responsible for product development and innovation) also remains Chairman of the British Hills Group, which has been part of the UTSCH Group since February 2020.
UTSCH CEO Dominic Höffgen sees the latter in particular as a strong signal to the industry: "With Richard Taffinder as our new CTO, we are continuing to drive forward technological integration within the UTSCH Group in order to network our product development and innovation power even more closely and thus offer our customers and partners real added value.
He himself is already very much looking forward to working together: "This new management team is an excellent mix of experience, competence and innovation, which will soon play out its positive effects in all areas of the company. I am sure that the company and the group will thus take a big step towards the future".